In the flurry of recent posts about data science topic I have had feedback about what kind of skillset is required for a Data Scientist, so here is the extract.
If you want to compete and be intelligent, then it is not necessary to know all the answers, but in knowing where to find them. No doubt this is 100% valid in this cyber-age, one cannot say that they don't know where to find information. I read somewhere that:
"A data scientist is someone who is better at statistics than any software engineer and better at software engineering than any statistician."
So what makes Data Science as one of the popoular field in the recent times, the answer is data. On any given day the relevant individual as a Data Scientist must have following knowledge to conduct:
Build an open-ended questions to perform research
Knowledge in data extraction and build analytic programs with statistical methods
Explore and verify data with different models (data driven solutions)
Define a predictive model and report to manaement for effective data visualisation.
The key factor how Data Science rolls into different areas of acadamics, technology and business, see below (source: datajobs.com):
An insight from data is a key factor which can lead towards quantitative terms, patterns, dimensions and formulas to build how exactly the data can be helpful for business growth. Analytics is another side of the coin which helps to derive at theory, model and process to solve the puzzle and this is 100% true: danger of building without knowing the math.
Being analytical and statistical are important, this is where mathematics comes in handy to understand how the models and statistics will be useful with a help from the technology, the new term in data science is "Hacking". Though it sounds like a negative term, let's make it for good cause by not breaking /breaching security but build creativity and aspects of how to build a solution by hacking into the business models. Again a web reference is helpful to quote:
Why is hacking ability important?

Because data scientists absolutely need to leverage technology in order to wrangle enormous data sets and work with complex algorithms, and it requires using tools far more sophisticated than Excel. Examples of such tools are SQL, SAS, and R, all of which require technical/coding ability. With these high-performance tools, a true 'hacker' is a technical ninja, able to use ingenious problem solving ability to achieve mastery in data exploration – piecing together unstructured information and teasing out golden nuggets of insight.
So think about how you can step into Data Science being an algorithmic thinker to tackle critical problems and build a solution, having a business acumen will help you to become competent in the field. The few tips about how you can build business skills as well:
Analytic Problem-Solving: Approaching high-level challenges with a clear eye on what is important; employing the right approach/methods to make the maximum use of time and human resources.
Effective Communication: Detailing your techniques and discoveries to technical and non-technical audiences in a language they can understand.
Intellectual Curiosity: Exploring new territories and finding creative and unusual ways to solve problems.
Industry Knowledge: Understanding the way your chosen industry functions and how data are collected, analyzed and utilized.
Another reference from web (on lighter side) to say …a data scientist living in Silicon Valley (CA):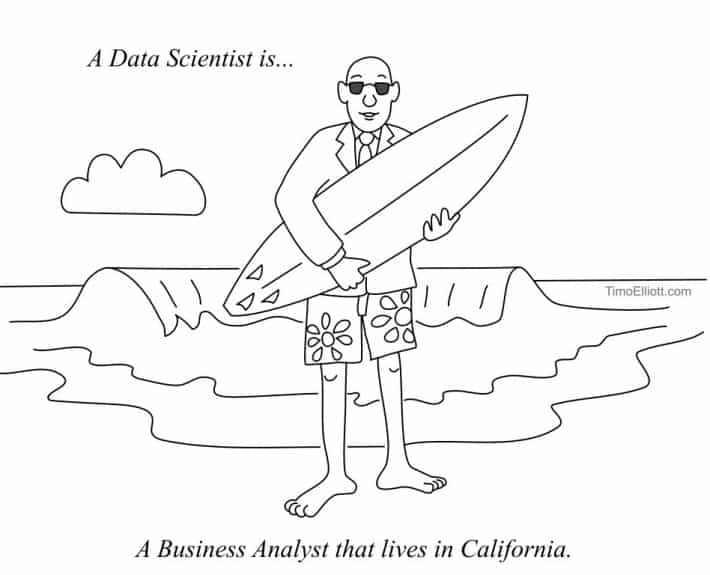 Another picture to represent a high level description of skills that are needed to become a data scientist: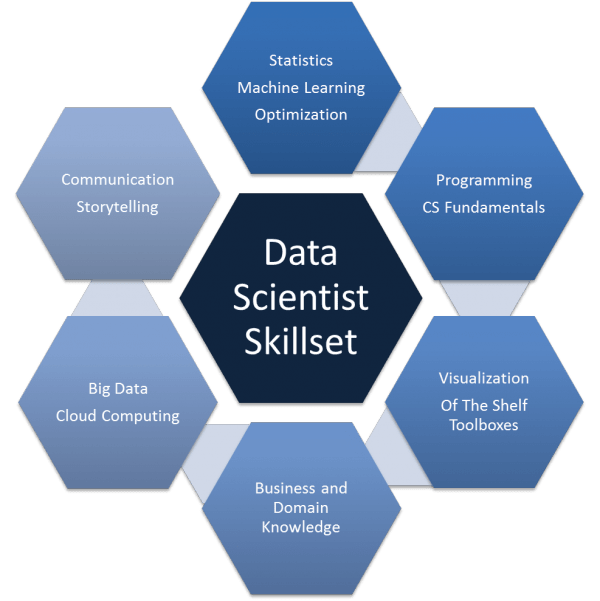 So here are few referenes about where you can start in Data Science and make it as a career: